The holiday season seems to be the time of year when most people break their healthy eating habits and indulge by eating and drinking more than normal, which is common with all of the holiday parties, treats at work, time off to rest and snuggle in at home, and a number of other reasons. Many people then use the new year to create resolutions that may or may not last throughout the year. Without having to make a drastic change to your diet, or start a crazy training regimen, there are a few ways you can detox your body to feel better and kick start any resolutions you may have created, even if they're not diet and exercise related. Detoxing your body will give you natural energy by removing toxins from your system that may be slowing you down without you even knowing.
Below are a few suggestions and recommendations on how you can start detoxing your system naturally. We have tried these methods and recommend them from first hand experience!
Drink Plenty of Water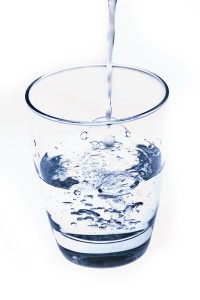 Drink lots of water! You hear it all the time, but drinking lots of water is one of the best ways to consistently detox your body. You are flushing out toxins that are present in your vital organs as well as re-hydrating them so that they are fully functioning. If you had lots of salt in your foods, that is a big cause of dehydration. You've probably heard that the minimum amount of water to drink in a day is eight 8 oz. glasses. This is a good start, but if you are very active and exercise frequently, then you should increase that amount to restore the water you loose when sweating. If your goal is weight loss, then all of the reasons just mentioned play a big part in your body functioning to its fullest potential, so that the other initiatives you make to achieve that goal will have a bigger impact.
The type of water your drink also makes a difference. Stay away from plain tap water as it contains chlorine, fluoride, and other toxins therefore defeating the purpose. Bottled water is also not the best choice, but is better than tap. There are chemicals in the plastic that can contaminate the water, especially if they are sitting in high heat (essentially helping the plastic melt and mixing in with water). The best solution is drinking filtered tap water, however there are many ways of filtration. Using glass containers is the ideal way to store your filtered water.

Drink a Liver Detox
My Fit Foods has a liver detox recipe that is simple and effective. They call it the "My Fit Cocktail". If one of your biggest downfalls this past holiday was drinking lots of alcohol, then doing this liver detox may be the best bang for your buck, per se. The great thing is that this cocktail not only cleanses the liver, but re-hydrates all of your detox organs. This cocktail is a part of their 21 day challenge, so drinking it every morning for 21 days is a great way to get the most out of it, but drinking it on the days you can is definitely better than nothing.
You should drink this first thing in the morning before consuming anything else. Want an even bigger boost? Cut out the morning coffee! Over time you'll notice an increase in energy and won't feel the need for your daily cup.
My Fit Cocktail
8 ounces water
4 ounces unsweetened cranberry juice (recommended brand: Knudsen Just Cranberry)
1 TB Bragg's Apple Cider Vinegar
½ lemon freshly squeezed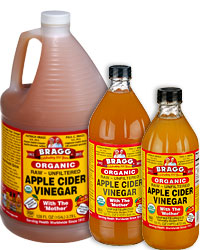 Both the Knudsen cranberry juice and the Bragg's Apple Cider Vinegar can be found locally here in Austin at HEB, Central Market, Whole Foods, and Sprouts!
For a detailed list of benefits and resources, see this article on the Daily Hap.

Drink Green Juice
The last tip in this post requires a juicer. If you have one, great! If not, we recommend the Jack LaLanne's Ultimate Power Juicer™. It's great for the cost! We purchased ours at Costco. If you don't have a Costco membership, our recommendation is to browse Amazon and read reviews from other customers to get the best juicer to fit your budget. This one came with a recipe book, which helped us jump start our journey into juicing. There are lots of other good ones out there, but things to keep in mind are the size of the pulp catcher (if you want to juice a lot, you don't want it to fill quickly), the size of the mouth (so that you don't always have to chop everything up into small pieces), and the height of the spout (so that you can fit a tall glass underneath). The only downside to the Jack LaLanne juicer we mentioned above, is the height of the spout. Since juicing is a process, we like to make juice to last us a couple days, so we require bigger containers. If you'd like to do something similar, you can purchase a box of mason jars to make several servings of juice to refrigerate! Keep in mind though that it's best to drink juice immediately as it oxides quickly after juicing. This is another reason we use mason jars, since you can seal it tightly to keep it fresh.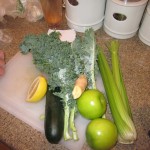 The best way to detox with juice is to go on a 3, 5, or 7 day juice fast. This is definitely a difficult feat to those who 1) don't juice or eat very many fruits and veggies, and 2) love to eat, especially meat! If that might seem too daunting, there is also a modified juice fast that you could try. Fasting in general is, in a way, a drastic way to detox, so to keep it simple, just add a green juice to your normal diet, and you will still help your body detox and quickly add nutrients that it may not have been receiving before! Ideally the goal is to relieve your digestive track from having to use energy to digest your food, so that your body can dispose of the waste and toxins sitting in your colon. So if you can, use green juice as a meal replacement to give your digestive system a rest.
One of our favorite green juice recipes is the Mean Green Juice made in the movie Fat, Sick and Nearly Dead. We didn't seek it out because we saw it in the movie, but it came up when searching for green juice recipes. We did make the effort to start juicing after seeing this movie though! If you haven't seen it, it is worth a watch!
Mean Green Juice
6 Kale Leaves
1 Cucumber
4 Celery Stalks
2 Green Apples
1/2 Lemon
1 piece of ginger
You can visit My Juice Cleanse for more recipes and resources on juicing!
Let us know by commenting below if you have tried any of these detox methods, and how they worked for you! We hope you had a great New Year!